New Mazda CX8 first drive impression by Colin Bower                     
"Which one would you buy?" a client asked me the other day.
He was referring to the 2018 Mazda CX8 versus the 2018 Ford Endura.
My answer was as always, 'it depends on your criteria and first impressions on test drive.
He said 'well, what did you think?'
Unfortunately, my reply was, "I can't tell you yet because I haven't driven either."
He said "well that's not much help. You're supposed to be an adviser and I thought with all your years in the motor trade, you would be able to give me an unbiased opinion."
That stung a bit, so I said I would get back to him in a few days and booked an overnight test drive in the CX-8.
Chrissie from Ultimate Mazda ran me through the new features. This included a set up with the heads-up display and the multi-mode knob on the centre console before I headed out for my loop to Paengaroa and back on a mix of urban roads and motorway.
My first impression was of how solid and smooth it felt. Whilst it is a big presence on the road being a full 7-seater, I felt nicely cocooned and not intimidated by unseen extremities in the busy Mount traffic. The controls were intuitive and not distracting like many unfamiliar first drives can be and the new diesel-only 2.2 engine struck me as smooth and torquey, and well balanced to the unobtrusive 6-speed auto.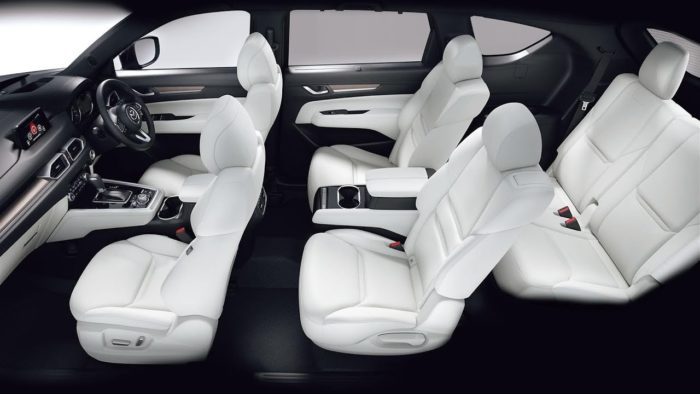 Mazda claim 5.7L/100km for the FWD and 6L/100km for the AWD which for a vehicle of this size seems incredible (not that I doubt it) and stops for diesel are going to be infrequent for most drivers.
I was particularly impressed with the i-activesense safety features that just take the driving experience to a new level. Whilst it was the LTD model I was driving, I was pleased to see in the brochure that the GSX model shared these incredibly useful driver aids.
One of the features I liked the most was the smart Mazda radar cruise control with stop/go function which automatically adjusts your speed to match the vehicle in front, even allowing a 3-second stop and take off again in heavy traffic. A little harder to get used to was the lane-keep assist which when switched on tugs at the steering and is hard to ignore. The heads-up display was practical and felt a real safety aid. Blind spot monitoring, rear cross traffic alert and traffic sign speed alert all reminded me that we are getting very close to self-drive.
Yes, you can probably tell, I liked it a lot and when you add Mazda's 3-year servicing programme, this all-new offering seems a lot of vehicle for the money – $53,495 – $62,495 and lease from $867 to $999 per month.
What about the Ford Endura I can hear you asking. I confess that after a couple of days with the CX8 I only took a short spin in the big Ford. Add a $79,990 price tag, a much heavier feel and less intuitive dash and controls, my preference was clear.
I am always happy to give an opinion if asked, but as I always say, opinions are subjective, and everyone has a different set of criteria. Ask for a decent drive before making your final decision.
If you'd like to get the Mazda CX-8 on a lease or hire purchase, give us a call on 0800 275 374 or fill in the quote request form below and we'll touch base with you pronto.