The 2019 Ranger builds on the capabilities and off-road credentials that has made the award-winning Ranger the most popular vehicle in New Zealand for three years running and the most popular ute in New Zealand for the last four years.
"The Ford Ranger has proven to be a great fit for all aspects of the Kiwi lifestyle," said Jeremy Nash, Ford New Zealand Marketing Manager. "The Ranger's solid workhorse credentials combined with class-leading refinement and capability have pushed the Ranger to the top of the charts in New Zealand, and has attracted many new customers to the ute segment. The 2019 model builds on that and with new powertrain options it will appeal to even more customers for a wider variety of uses."
Advanced powertrains for proven performance, cutting edge technology
The 2019 Ford Ranger will be offered with an array of new features including the addition of Ford's latest new-generation 2.0L Bi-Turbo diesel engine. The Bi-Turbo will be available in the Ranger Wildtrak series as an option, giving Ford Ranger customers a wider choice to better match their lifestyles.
Having chalked up the equivalent of 5.5 million kilometres of testing, Ford's new generation of diesel engines use advanced materials and sophisticated construction to offer Ranger BiTurbo customers a vehicle with an enhanced span of already capable attributes. With common-rail direct fuel-injection, an integrated intake manifold, and a belt-in-oil primary drive, the Bi-Turbo is compact, lightweight, powerful and efficient.
"The new BiTurbo delivers 500Nm from 1750rpm, giving customers access to more torque, more of the time," said John Willems, Chief Program Engineer, Ford Ranger.
The Bi-Turbo takes advantage of a sequential turbocharging to deliver greater responsiveness, drivability and maximum efficiency. The first fixed-geometry turbocharger delivers a greater throttle response and eliminates lag by spooling up quickly at low speeds. The secondary turbocharger features advanced variable geometry to deliver performance gains and smoothness at higher speeds, taking over from the primary initial turbo.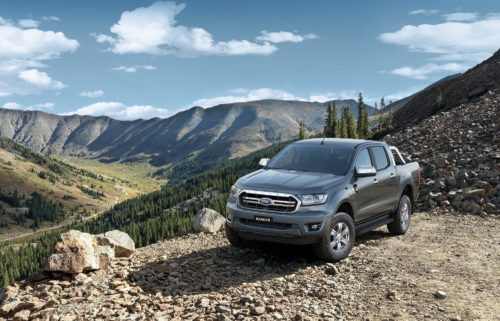 Available exclusively on Wildtrak and the Ranger Raptor (coming later in 2018), the new-generation Bi-Turbo diesel is coupled to an advanced 10-speed torque-convertor automatic to bring greater torque, improved flexibility and a quieter, more comfortable drive to the new Ranger. With 500Nm from a low 1750rpm, the Bi-Turbo delivers a greater torque spread, with the 10-speed's close ratios reducing gaps in power and acceleration to make steep, slippery hill-climbs, for instance, much easier. Wildtrak models optioned with the 500Nm BiTurbo engine maintain Ranger's equal class-leading payload and 3500kg towing capability.
The Ranger's proven 3.2-litre turbodiesel continues to deliver outstanding payload and towing capabilities Ranger is renowned for. Its highly competitive payload applies to automatic models, with 3500kg on all 3.2-litre powered Rangers across all body styles.  Offering 147kW/470Nm, the 3.2-litre comes with a six-speed torque converter automatic transmission.
2019 Ford Ranger powertrains
Engine
Power
Torque
Towing
Duratorq 2.2L
118kW@3200rpm
385Nm@1600-2500rpm
3,500kg
Duratorq 3.2L
147kW@3000rpm
470Nm@1750-2500rpm
3,500kg
Bi-Turbo
157kW@3750rpm
500Nm@1750-2000rpm
3,500kg*
Tougher, smarter
Ford's Pre-Collision Assist uses Inter-Urban Autonomous Emergency Braking (AEB) with Pedestrian Detection and Vehicle Detection at any speed on Ranger to detect pedestrians, objects, as well as vehicles to bring Ranger to a complete stop, mitigating rear-end collisions and road-traffic collisions with pedestrians. The system, which functions at speeds above 3.6km/h, is standard on the Ranger Wildtrak.
Traffic Sign Recognition, available for the first time on Ranger, is designed to identify traffic signs whether they are at the side of the road or above it, permanent or temporary. An icon of the speed sign appears on the instrument cluster and changes every time you enter a new limit.
Lane Keeping Alert and Lane Keeping Aid, and Adaptive Cruise Control with Forward Alert are also now a feature on the Ranger Wildtrak, reducing driver workload to help with both short-term attentiveness and longer journey driver fatigue.
In a segment first, the 2019 Ranger Wildtrak also features include Active Park Assist (APA), reducing stress by enabling semi-automatic parallel parking. The driver needs only to apply the throttle and brakes, as the system steers the Ranger into the parking space.
Loading Ranger is far easier for 2019 with the introduction of an easy-lift tailgate on all models. With a new internal mechanism, the Ranger's tailgate is now lighter to lift, with a 70-per cent reduction in initial force required to raise it for closing. Not only does this system require less effort to lift, it also means that it will not drop suddenly when lowered, or if accidentally dropped. Instead, it lowers itself under its own weight.
Ranger's fresh face
The 2019 Ranger's rugged good looks see styling changes that carry on the off-road stance and visual appeal of the current model. Lead by a cleaner new grille, which features the distinctive 'nostrils', a more distinctively chiseled lower bumper now offers a broader intake for a more balanced look. Ranger Wildtrak and XLT boast LED daytime running lights and HID headlights, for better visibility and vision.
"The Ranger has to visually signify its intent from the moment you see it," said Ford Asia-Pacific Director of Design, Todd Willing. "If it doesn't look like it's as capable as it actually is, we've missed a serious opportunity. We know Ranger can walk the walk, so we have to show this in the way its styling speaks to that."
There's also clearer distinction between models visually, with bumper treatments and colours reflecting the unique character of each model – whether a hard-working Ranger XL cab chassis, or a go anywhere Wildtrak.
Chrome brightwork on Ranger XLT and Ranger Wildtrak reflects each model's unique position in the line-up, while exclusive to Wildtrak is the new 'Sabre' hero colour. Wildtrak's Sabre paintwork is a rich orange with blonde accents, and contrasts strongly with the dark grey grille surrounds, Wildtrak sports-bar and optional black-finish 18-inch alloy wheels that further differentiate Wildtrak from the pack.
Mission Control
Ranger is now offered with Passive Entry Passive Start (PEPS) keyless entry and push-button start as standard on XLT and Wildtrak.
The 2019 Ranger's interior hosts an array of upgrades to help tackle the working week, the long-weekend road trip, or the off-road adventure. With durable, tactile surface finishes ensuring a long lifespan with a quality touch and feel, the spacious Ranger interior now sports a black theme.
Contrasting detail elements include shadow chrome and silver accent stitching, further giving Ranger a more premium interior.
SYNC 3[iii] with Apple CarPlay and Android Auto[iv] compatibility continues as standard on XLT and Wildtrak, including Bluetooth, an 8.0-inch full colour touchscreen and reversing camera. SYNC3 enables use of Google Maps[v], Apple Maps as well as standard in-built sat-nav for when the Ranger is beyond mobile coverage areas. The mapping system also features a 'breadcrumbs' feature, allowing an unmarked off-road route, for instance, to be mapped as it's traversed.
On-road comfort, off-road conquered
For the 2019 Ranger, the suspension has been upgraded across the range to reduce and better control roll, with an emphasis on improving the driving experience when fully-laden and towing.
New packaging also enables geometry changes that bring improved ride, a reduction in body roll as well as improved steering precision. Crucially, while improving the drive and refinement, the suspension changes do not impact on Ranger's class-leading towing and payload capabilities.
"We've further improved how Ranger behaves when carrying a load, towing a boat or taking a caravan around the country," said John Willems, Chief Program Engineer, Ford Ranger. "The Ranger is now better to drive when it's working its hardest. It makes it easier to handle, so you can really make the most of its payload and towing capabilities, and helps to reduce fatigue on long trips, too."
-Ends
If you'd like to get your order in for the new Ford Ranger, give us a call today on 0800-275 374 or fill in the quote request form below.