Driveline Fleet Management is an online system designed to help businesses manage their vehicle costs and OSH compliance in an easy and affordable way.
Keep all your vehicle data in one place with instant reporting on running costs.
Get auto alerts for registrations, WOF/COFs, and drivers licenses via the direct link with NZTA.
Ensure vehicles are regularly checked by drivers with the "Walk-Around Check" App.
Manage your health and safety compliance with better record keeping and a free vehicle policy.
Know the true cost of ownership for each vehicle.
Let us set the system up for you so it's ready to go from day 1.
Key features & benefits…
Cost savings
Managing vehicles more efficiently will save you time, energy and money.
Identify cost-saving areas.
Accurately know the true cost of vehicle ownership to inform business decisions on repair & replacement.
Compare fuel usage.
Compliance
Helps your business comply with occupational health and safety.
View current OSH compliance status of each vehicle at a glance.
Automated email and text alerts for expiry of WOF, COF, Rego, RUC, fuel cards, servicing and drivers' licenses.
Convenience
Customised for all sizes of business.
Packages from 5-200 vehicles.
All vehicle records in one place.
Instant reporting.
Automated updates from NZTA.
We set up and customise your fleet management system to suit your business' needs.
---
To find out more about Driveline Fleet Management complete the "Quote Request" form on this page and we'll contact you pronto!
---
Health and Safety law
The new "Health and Safety at Work Act 2015" comes into affect on 4 April 2016.
Under New Zealand law, the definitions of a "workplace" includes a vehicle used for business purposes.
Under the Act business owners have a primary duty of care to ensure the "provision and maintenance of a work environment that is without risks to health and safety".
Manage your liability
Business owners who fail in their duty of care to workers will face higher levels of liability and tougher penalties.
Non-compliant vehicles may not be covered by insurance if involved in an accident.
Driveline Fleet Managament enables you to manage your fleet effectively and see the compliance status of each vehicle at a glance.
Read more about the Health & Safety at Work Act 2015
How does fleet management help with OSH compliance?
The "Walk-Around Check" App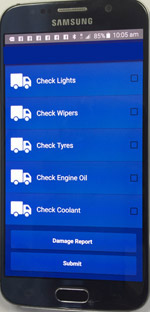 The online system comes with a free smartphone app which regularly prompts drivers to complete a 5 minute walk-around vehicle check.
This ensures that basic checks like tyres, wipers, brake-lights, oil, and battery are sighted and signed off by the driver on a regular basis. The driver can also quickly upload photos of any damage that needs attention.
Most importantly the system records that checks have been completed by the driver and all appears to be in order.
Driver License Monitoring
What if one of your drivers loses their license and doesn't tell you?
With a direct feed from NZTA Licensing, you can count on the system to notify you if a driver loses their license due to DIC, demerit points or some other driving offense or if their license expires.
Driveline Fleet Management keeps you informed and helps manage the risk to your business.
What does it manage?
All your vehicle data in one place…
WOFs, COFs, Regos & RUCs for cars, vans, trucks & trailers.
Servicing records
Parking permits
Drivers and licenses
Fuel cards and statements
Monthly finance & residual payments
Vehicle replacement cycles
Instant reporting on vehicles…
Current health and safety compliance status
GPS Fleet tracking
Running costs
Servicing costs
Cost of ownership
Fuel card usage
Finance and return
Replacement schedule
Fleet Services
How easy is Driveline Fleet Management?
We take care of setting the fleet management system up and customising it for your business' needs including…
Upload existing vehicle data.
Set up email and text alerts to ensure you never miss an expiry date.
Set up different levels of access.
Full training for you and your staff.
Ongoing support by phone.
Vehicle info is automatically updated from NZTA.
Minimal data entry required once the system is set up.
All your data online and in one place with instant reporting.
Ongoing support is available by phone during business hours.
What are the Costs?
The Driveline Fleet Management system has been developed specifically for Kiwi businesses and is the most affordable system on the market.
Pricing
Starter plan up to 5 vehicles:
$45 per month
Additional vehicles:
$9 per vehicle per month
One-off set up:
from $179
Optional Extras
Road side assistance:
$6.95 per vehicle per month
Live GPS tracking:
$27.95 per vehicle per month
N.B. Prices are GST exclusive.
---
To find out more about Driveline Fleet Management complete the "Quote Request" form on this page and one of our team will contact you pronto!
---