The 2019 Kia Sportage is here and it is looking to make an impression straight away.
After all, when you're competing against the Mazda CX-5, Nissan X-Trail, Mitsubishi Outlander and Hyundai Santa-Fe, the difference in quality is very small. One bad impression is enough to persuade buyers to go elsewhere; to purchase something else.
There have been a lot of independent reviews from media throughout New Zealand, and the world, about what's good with the 2019 Kia Sportage, and what's not. Now in its 4th generation, the Kia Sportage has emerged from an obscure brand to one of the top selling SUVs. It has built itself as a brand of consistency. A consistent ride, a consistent driving experience. The biggest changes are around the extra tech features.
A lot of our clients who drive a Kia Sportage, enjoy the comfort and consistency which it offers. It also prices up quite nicely compared to its competitors. So, if you are in the market for a Mazda CX5, or a Rav 4 or even a Mercedes-GLC SUV, it's worth investigating if you'd be better off with the Kia.
I decided to have a closer look at the new model myself to see what it's all about.
There are a couple of refinements which have been made, with most of them happening on the inside, so I won't go into too much detail about the exterior (which looks exactly the same).
Overall, the driving experience in the new Kia Sportage is excellent. Equipped with a 2L turbo engine, the 2019 model takes driving performance up a level. Acceleration and braking are very smooth and fluid. In years gone by, the previous LX & EX base models had engines which always lacked the power. Now, it fits in well and gets on with the job. But it's not the vim and vigour that impresses most. It's the way this model feels as you tootle about on your daily business; it feels special.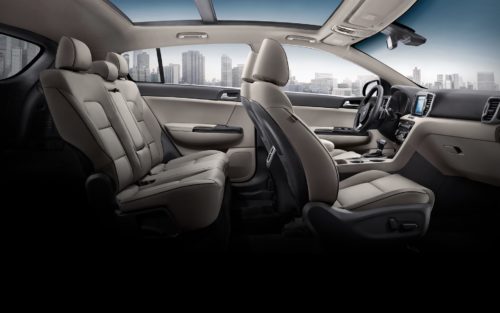 The cabin noise is very minimal, which is a big win if you're on the road a lot. Visibility is a little bit better as well, with the seat adjustment and alignment giving you a little bit more space to see your surroundings. You're able to adjust the side mirrors so that your blind spot is greatly reduced. Again, if I was on the road a lot, it's something that would give me much greater peace of mind.
The big drawback about the Sportage base model, is that they are not as fuel efficient as you might expect.  For example, I live about 20 minutes away from work, travelling briefly in a 80kmh zone and 50kmh for the rest of the trip. In that time the economy sat at 10.5L per km. You can certainly get the higher end models with a better range and fuel economy, however, I think more can, and should, be done to try to improve fuel economy further.
With that small blip aside. I really enjoyed driving the new Kia Sportage. It is a sleek, modern vehicle which is comfortable on the inside and bold on the outside. It has that "hang on a minute" feel that announces that you're at the helm of something special.
Key Specs
Model: 2019 Kia Sportage EX Urban 2L
Power train and Performance: 2L Petrol. 114kW power and 192Nm of torque
Luggage Capacity: 466 litres
Towing Capacity: 1,600kg
17 inch alloy wheels
5 star ANCAP Rating
Interested in leasing or financing the 2019 Kia Sportage? Give us a call on 0800 275 374 or fill in the quote request form below and we'll touch base with you pronto.