Electric Car Finance Follows The Rise of Electric Cars… The revolution in electric cars has been a long time coming. There's no denying it's here to stay, and so we're pleased to announce the advent of Driveline Fleet's new electric car finance and lease packages.


Electric car finance could buy you this 400km/h Tesla Roadster!
When you look back in history, you sometimes can't help but wonder why it takes so long for some things to happen.
For those of us who are rugby mad, a big question we asked on 23 October 2011 was, "Why did it take the All Blacks 24 years to win their second world cup title?"
However, after they scooped this second win, they went on to bring home the title again four years later. And with next Rugby World Cup just two years away, they're hot favourites to win it for a fourth time.
The advent of mass-produced electric cars follows a similar path.
Robert Davidson builds world's first electric car in 1839
The first electric-powered locomotive was built way back in 1837 by Scottish inventor Robert Davidson, who also made the first electric car in 1839. He couldn't interest the railway companies in electric locomotives because the technology used was too expensive.
It was only when electric locomotives were introduced in the 1890s that the media came to recognise what this forgotten hero and electrical visionary had done. He was described as the "oldest living electrician" and The Electrician magazine reported: "Robert Davidson was undoubtedly the first to demonstrate the possibility of electrical traction in a practical way".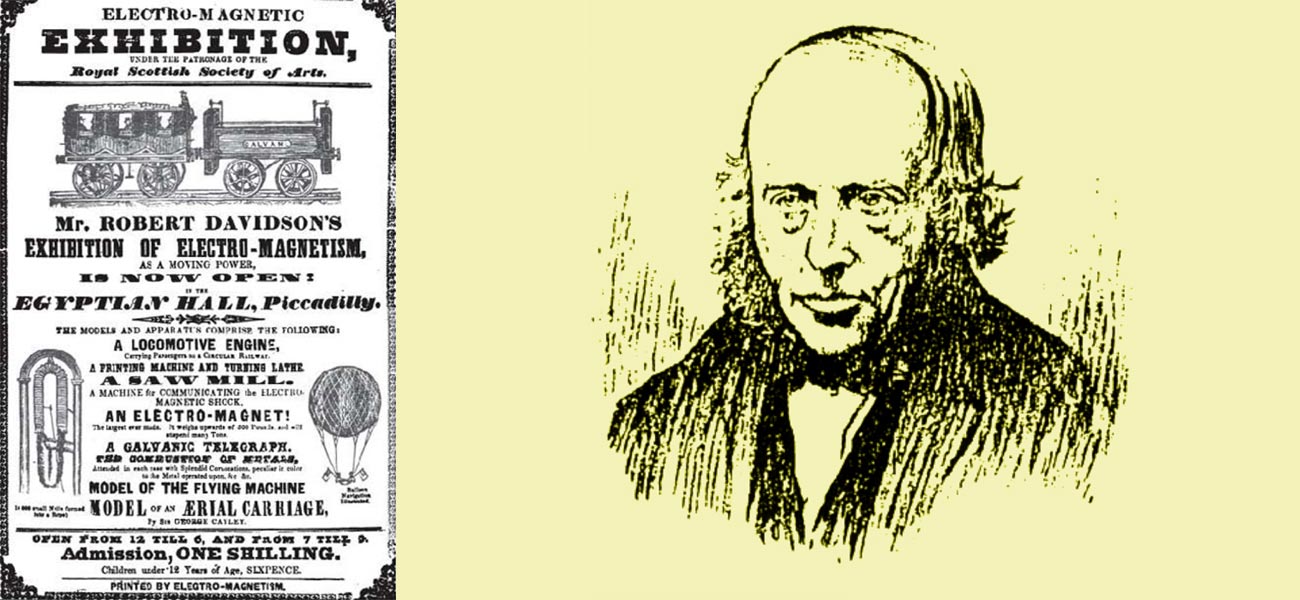 Robert Davidson, Scottish inventor who built the world's first electric car in 1839.
Thomas Parker builds first production electric car in 1884
Thomas Parker built the first practical production electric car in London in 1884, using his own specially designed high-capacity rechargeable batteries.


Thomas Parker (centre) in his electric car outside his home in Tettenhall, around 1895.
Electric starter motor turns the tide to petrol
As innovative as it was, the idea of mass-produced electric vehicles stagnated as internal combustion engines gained prominence in the first decade of the 20th century. The pivotal point that guaranteed the future of internal combustion engines was the introduction in 1912 of the electric starter motor, which replaced laborious hand-cranking.
General Motors EV1 electric car introduced in 1996
As time moved on, a few prominent electric-powered cars were produced. One of note was the General Motors EV1 in 1996. It was the first mass-produced and purpose-designed electric car of the modern era from a major automaker.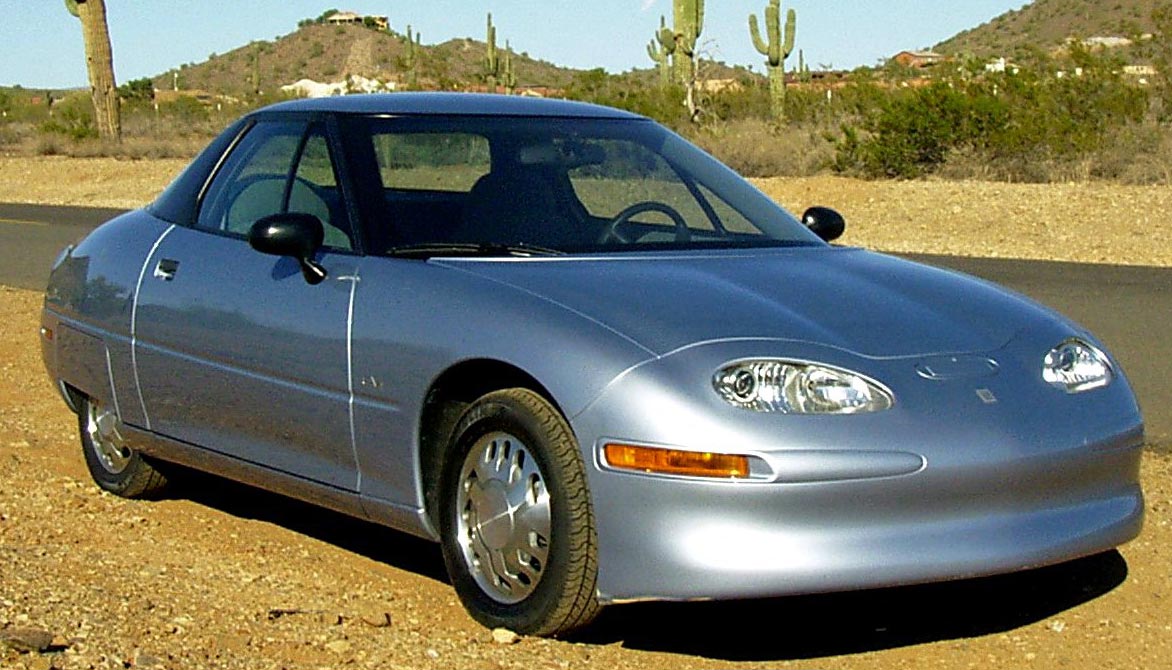 GM EV1, only ever available under an electric car finance & lease package.
The world's first electric car finance and lease package
The EV1 was made available through limited lease-only agreements to residents of several California and Arizona cities. EV1 lessees were officially participants in a "real-world engineering evaluation" and market study into the feasibility of producing and marketing a commuter electric vehicle.
While customer reaction to the EV1 was positive, GM believed electric cars occupied an unprofitable niche of the automobile market, and ended up crushing most of the cars, regardless of protesting customers, after all cars on the road were repossessed. Lessees were refused the right to purchase their cars.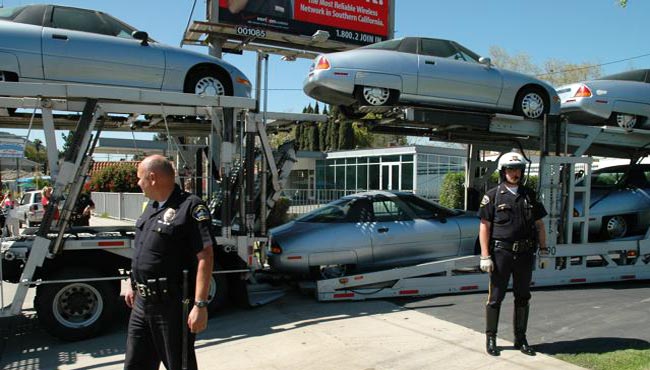 Police protecting a shipment of EV1s bought by consumers under GM's electric car finance packages but forcibly repossessed by GM and sent off for crushing 🙁
For the most part, large automobile manufacturers focused on producing petrol and diesel cars. It was the norm and it was expected.
Environment turns the tide to electric cars
Fast forward to recent times and there's more of an awareness about our environment. This conscious way of living means people adopt new ways to be more eco-friendly and kinder to our planet. There's a general consensus there needs to be a shift in attitude towards the way we get from A to B, and more awareness around the negative impact conventional cars can have on the environment.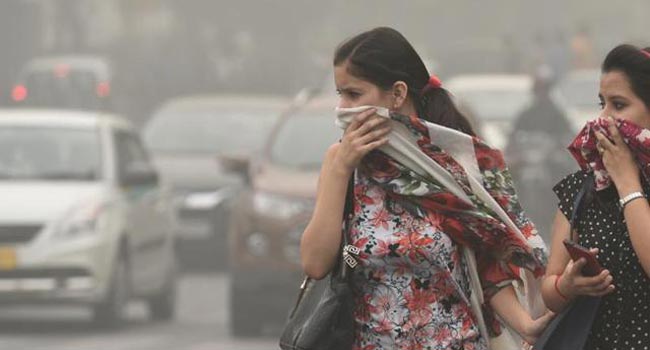 Eek, let's hope electric car finance gets more EVs on the roads to prevent smog like this!
Electric cars are increasingly seen as the answer. While they do not sit at 'zero emission' per se, they are one of the best eco-friendly alternatives.
And with governments, lobby groups, innovators and private citizens pushing for a solution to help reduce our carbon footprint, who better to change the motor industry's perception than a leading visionary and entrepreneur.
Enter Elon Musk and Tesla Motors, the company he founded.


Elon Musk, founder of Tesla Motors.
Tesla New Zealand launched in early 2017, but other electric models have been on our shores for longer. Although things have been a bit slow off the mark here to start with, there are signs of healthy growth in the electric car market.


Tesla Model S, available for purchase under a Driveline electric car finance package.
New Zealand Transport Agency figures tell a big story. In just two years, the number of electric cars on our roads has increased a lot. In 2015, there were 503 electric cars on our roads. Today, there are more than 2,000. In two short years we've experienced an increase of more than 300%.
Now that Tesla has a presence in the New Zealand market and is opening up charging stations throughout the main towns and cities, expect that trend to continue.


Tesla Model 3, available for purchase under a Driveline electric car finance package.
Telsa isn't the first electric car to make a splash in the local car market though. The first-generation Nissan Leaf was sold here for a couple of years. Whilst new models are no longer sold due to commercial reasons, used models continue to be a big hit.

You can only get a Nissan Leaf as an ex-lease car or used car under a Driveline electric car finance package since Nissan stopped selling them in New Zealand.
Three of our clients lease Nissan Leaf vehicles from our fleet, and have great things to say about the car. Whats more, Consumer New Zealand surveyed more than 10,000 vehicles and named the Nissan Leaf as New Zealand's most reliable car.
As world leaders look for new ways to embrace the rise of the electric car in order to help reduce environmental damage, both British and French governments recently announced that by 2040 the sale of new petrol and diesel cars will be banned in their countries. It's no wonder car manufacturers worldwide now have a huge interest in developing electric vehicles!
While New Zealand may take a bit longer to adopt electric cars at similar scale, it's something we can expect to become a bigger part of our lives in the not-too-distant future.
After all, 10 years ago when Apple released the iPhone, no one could even begin to imagine how much it would revolutionise our lives. In the same way, electric cars are set to completely transform the automotive industry forever. As engineer and former Intel CEO Andy Grove once said, "There are two options: adapt or die."
Electric car finance review: Joe Hoonhout of IT Solutions
"I had been driving a Toyota Prius since 2009, anticipating that it would provide a good electric vehicle range. It wasn't to be though as the electric range was only 1km.
"In 2014, I did my research and purchased a 1st generation Nissan Leaf. The big things I looked into were the purchase cost and operating costs.
"I also considered the driving range of the vehicle. Remember, I bought this vehicle at a time when New Zealand did not have EV charging stations. My minimum driving range was 100km a day and the Leaf (powered by a 24Kw battery) was able to meet that requirement… just.
"Now, there are lots of public charging stations around New Zealand so the driving range is no longer a restriction to long distance travel.
"I now have a 2nd generation Nissan Leaf (2015, 30Kw battery, Gen 2). This has a single charge range of 150-170 km.
"I really enjoy…
the low operating costs (about $3 to drive 150 km)
low servicing costs (about $200 every 6 months)
the silence while driving
the engine's regen braking (I hardly use the brake pedal)
the comfort and the reliability
the great safety features
no oil leaks, no exhaust fumes, no high maintenance bills"
– Joe Hoonhout
These are the things Joe specifically likes about this Nissan Leaf electric car…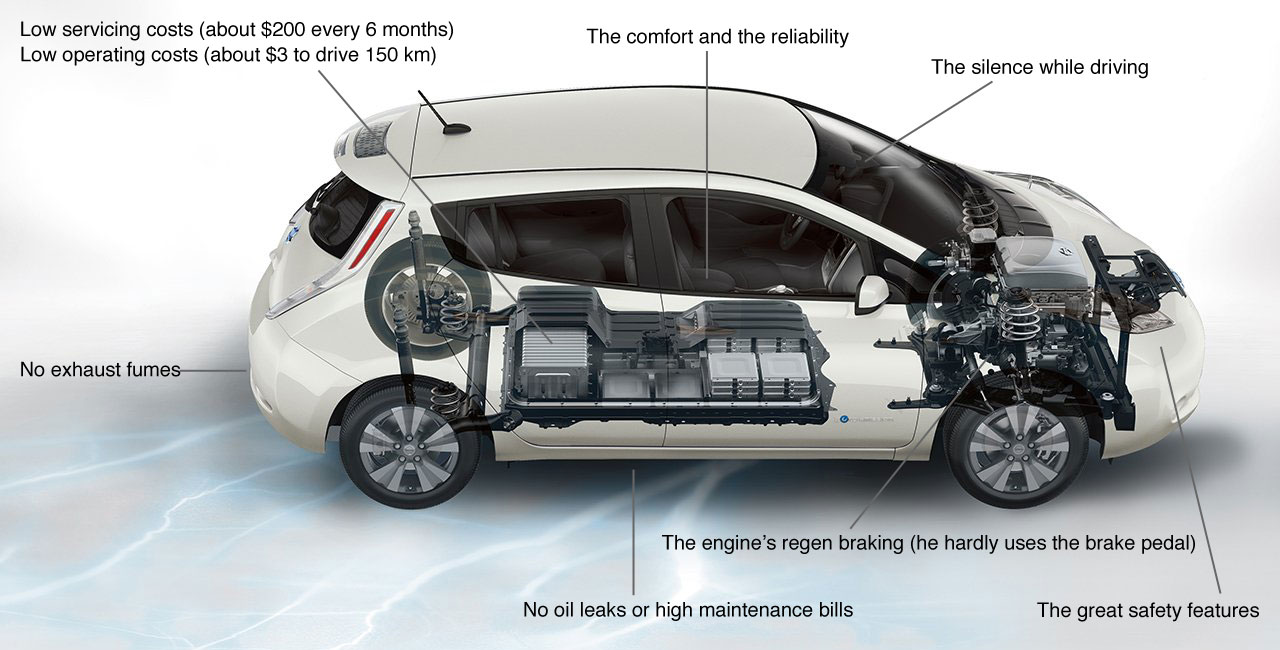 Until 31 Dec 2021 EVs are exempt from RUCs so in terms of operating costs things will change after that date.
Do you have any questions about electric vehicles?
Interested in finding out more about leasing or financing an electric vehicle?
Give us a call today on 0800 275-374, send us an email on info@driveline.co.nz or fill in the "Request Quote" form on this page to get the ball rolling.
---