We had a great opportunity recently to drive the Seat Tarraco Excellence 4Drive for a few days and everyone in the team was blown away by its looks, drive and performance.
​The Volkswagen Group offers this stunning German-made seven-seat SUV, which as you probably know, is a very close relation to the Skoda Kodiaq (made in the Czech Republic) and VW Tiguan Allspace (built in Mexico for the Kiwi market).
Skoda is usually thought of as the practical/cleverly packaged brand, VW the more upmarket offering and Spain's Seat, the one with a bit more Andalusian fun and flair!
Like its smaller siblings, the Tarraco draws heavily on platform technology from parent company The Volkswagen Group. But it also seems to have an extra sophistication when it comes to its handling and ride that sets it apart from its siblings. And you can take it for granted that it gets the benefit of VW Group's carefully thought-out seven-seat configuration too.
The Tarraco offers more driver appeal than the Skoda Kodiaq, even though it shares the same platform. It helps that the Tarraco sits 20mm lower to the ground, which means body roll is kept in check. It means that you can change direction with confidence, with the responsive steering encouraging you to press on when cornering.
There are two petrol engines: a turbocharged 148bhp 1.5 TSI Evo and a more powerful 187bhp 2.0 TSI. The entry-level 1.5-litre is equipped with a six-speed manual gearbox, while the range-topping 2.0-litre TSI only comes with a seven-speed DSG transmission and 4Drive four-wheel drive.
The Tarraco has all that you need and more with keyless entry/start with hands-free tailgate and the Xcellence specification provisions 19-inch alloys, LED ambient lighting, tinted windows, panoramic sunroof, and the option to upgrade to 20-inch wheels. You can either have full leather seats or cloth/Alcantara seats with heating front/rear and power operation/memory for the driver. One thing we really love about the seats are the 3 different materials: the seated area is cloth so it prevents sweating then the suede on the inner-outer part of the seat to keep you comfy and warm, then placed leather on the outer part of the seat to keep your seats in tip top condition for longer.

In the centre of the cabin is a high resolution, 8-inch screen that is placed high enough up the dash to be safe to engage with whilst driving. Along with the centre screen, there is another display behind the steering wheel which displays various instruments, plus a huge map that makes it easy and safe to follow the sat-nav instructions when en-route.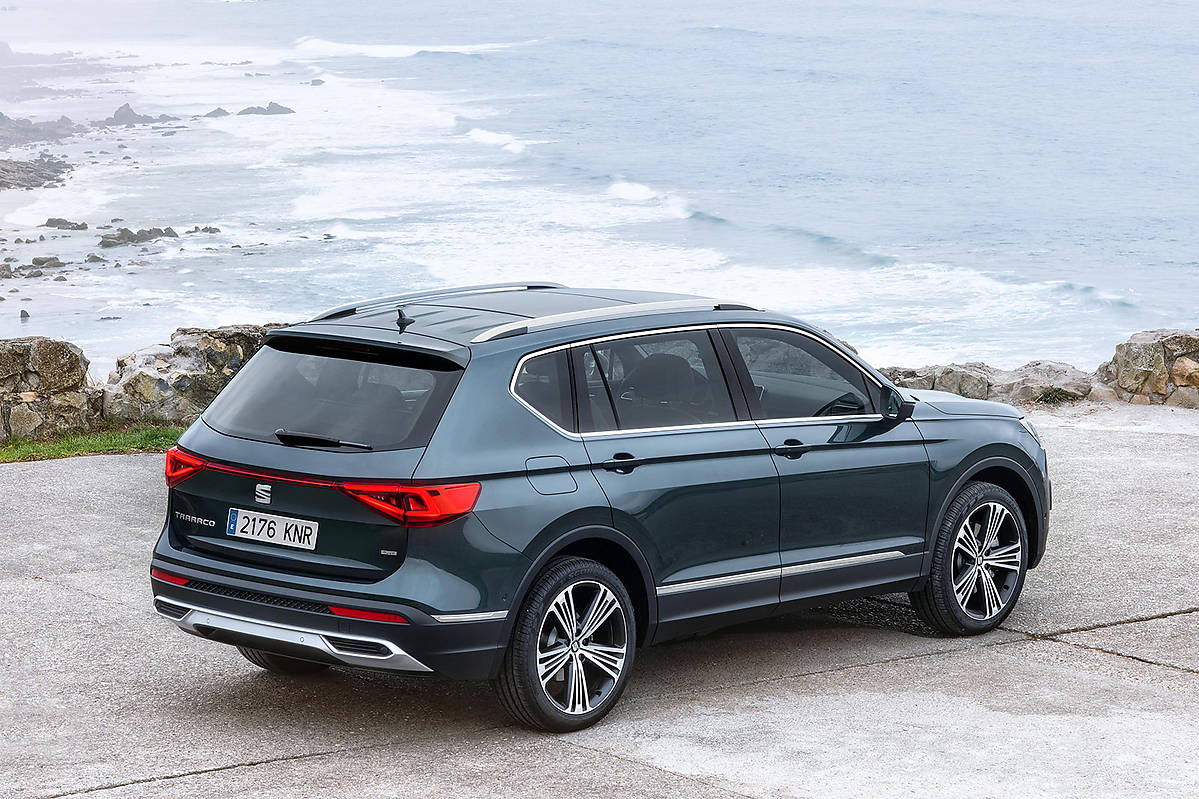 The roofline and sharp crease through the doors are similar to Kodiaq's, but the Tarraco attention to detail is spectacular, with the diamond shapes being repeated from the interior dash to the door and even on the head lights.
Getting into any parking spot is made easy with this model's 360° top view camera. It feels like there is a drone hovering over your vehicles every time you engage reverse! With advanced sensors and automatic steering, the Seat Tarraco really removes the hassle of parking.
From a tentative launch with just one sole retail store in Auckland, it now has sales agents in Hamilton, Tauranga, Wellington and Christchurch. Seat is of course still a very small brand in New Zealand, but it has plenty of credibility in Europe and is fast becoming a more established and trusted marque here in the Kiwi market.
Disclaimer: Available for "Business Use Clients" only. These are Indicative non-maintained lease prices and do not constitute a quote. Prices shown are GST exclusive and are based on an assumed term of 45 months and the vehicle returning with approximately 60,000 km. Terms and Conditions apply. For full disclosure of how this lease is structured we ask that you contact an Authorised Driveline Representative who will finalise lease pricing and provide full details of the various lease options and lessee obligations. Please refer to our T & C's here. Unless otherwise specified the above pricing includes the cost of the vehicle and basic On Road Costs only.