Super Shuttle is one of New Zealand's largest airport transport fleets. We have 140 vans on the roads, transporting over 1 million people to and from 12 airports around the country each year. Our 200 drivers use a mix of practical Toyota ZX Hiace vans and luxurious Mercedes Benz Sprinter vans. These vehicles have been retrofitted with fully customised interiors and our customers' luggage is stored in a customised, branded trailer.
We've been using Driveline's services since 2001 and have consistently been impressed by their professional approach. They look after everything when it comes to the vehicles, providing a complete end-to-end offering liaising with Super Shuttle's key suppliers – from procurement, interior vehicle customisation, sign writing and finance packages to suit individual owner drivers. They work closely with our corporate team and our owner drivers to find out what is needed, ensuring we constantly make improvements.
Our key point of contact has been Driveline's Director Paul Tobin. Paul has vast experience in car leasing and a comprehensive understanding of our business. He liaises with Super Shuttle drivers on a regular basis and we see him as an extension of our management team!
Driveline support us to make informed decisions and take care of every detail; from on-road costs, vehicle assessment, purchase, fit-out, to financials. Their network of dealers in New Zealand means they can also assist Super Shuttle owner drivers when it comes to selling their existing vehicle and upgrading every six years. We upgrade our vehicles regularly to ensure we continue to deliver consistent customer experience. Driveline ensures the vehicle procurement and replacement process is completely seamless.
Driveline's flexibility and access to a range of finance options means vehicle finance is usually always guaranteed and there's no delay in getting new owner drivers on the road when we need to.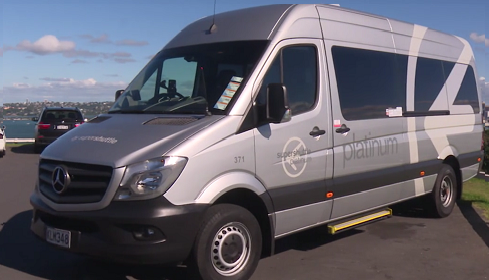 Two years ago we spoke with Paul about launching the Platinum Super Shuttle. The demand from our existing client base was high and it was also a good chance to refresh Custom Tours, which was our existing premium offer. After sharing our vision with Driveline, they provided several van options to look at and eventually we decided on the Mercedes Benz Sprinter. Paul drove the process and also provided great advice on selecting internal fit outs, sign writing, as well as managing all on roading and liaising with owner drivers with finance requirements etc.
We currently have four Platinum Super Shuttles in operation in Auckland and plan to expand this service in the city and nationwide in 2018.
We have no hesitation in recommending the Driveline Fleet to other companies in New Zealand.
Vaughan Underwood
CEO at Super Shuttle NZ