RANGER HAS BEEN THE BEST SELLING VEHICLE IN NZ FOR THE PAST FIVE YEARS, BUT FORD HASN'T BEEN SITTING ABOUT JUST COUNTING THE REGISTRATIONS
Frequent upgrades to the Ranger have seen Ford assign weird model year designations like 2019.75 and 2020.25 to help differentiate the updates. Part of the revised line-up is a new FX4 variant, taking the number of Ranger choices to 14. It's one of the few Rangers to get the new 2.0-litre engine, not that Ford references its lowly capacity, preferring to call it the bi-turbo. Having two litres is not ideal but twin turbos gets a double thumbs up.
We like this engine, at least when it comes to tooling around town in 'lifestyler' fashion. The bi-turbo delivers strongly, regardless of what the tacho might be reading. That's if you can find said rev counter, the vestigial dial now buried in the submenus of the configurable instruments. Anyhow, the bi-turbo will haul from its sub-1500rpm zone without coughing, a healthy trait in a Covid-19 alert world. The only time you'll curse any lag is boosting it from a standstill though this can be alleviated the usual way; just stall it up on the brake before hitting the gap.
The 2.0-litre spins to four and a bit and is a quicker revver than the big old five-pot. Rangers equipped with the bi-turbo are lighter over the front axle too, making them more dynamic than the 3.2-litre versions. And the Ranger is one of the better handling pick-ups; therefore you are getting the best of the best here. Topping it off, the bi-turbo's consumption is around the mid-9L/100km mark for town work, whereas the 3.2 can get up into 12L/100km zone for the same sort of thing.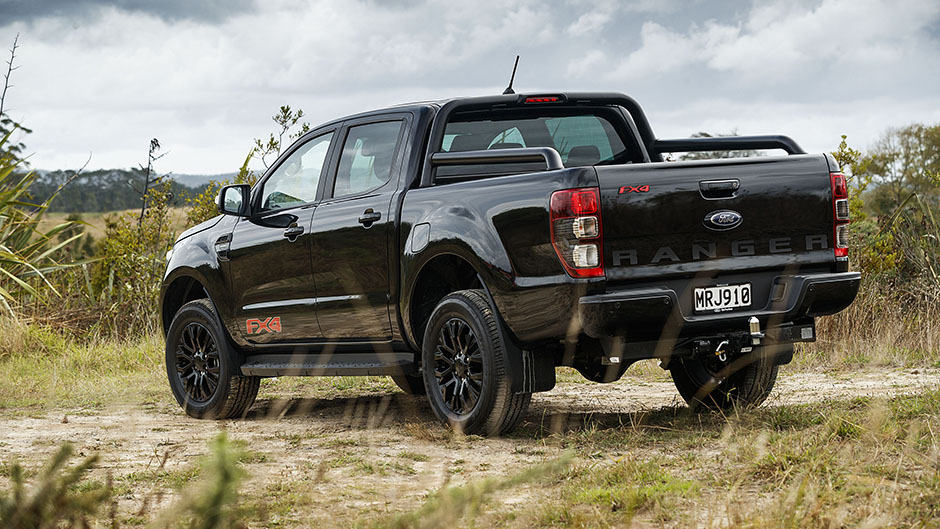 The FX4 rides on 18-inch wheels but the progress is pretty swish unless you've experienced the Raptor that is. But the FX4 is an easy drive, the steering light and it's not too rowdy in the cabin in terms of engine clamour, or road noise.
This fits in the line-up between the XLT and Wildtrak, wearing a black mesh grille, mirrors, handles and bumpers. Inside are leather-accented seats, red stitching and a soft-touch instrument covering, but there's still lots of hard plastic everywhere else.
Words: Kyle Cassidy | Photos: Tom Gasnier
Call the team at Driveline for the BEST finance options on this remarkable Ford Ranger 4X4 FX4 2.0L Double Cab!