Being offered the opportunity of a drive of the new 2019 Peugeot 3008 GT on a trip over the hill from Tauranga to Cambridge and return was a chance to satisfy a curiosity I couldn't refuse.
A friend is on his third one and tends to sing its praises when the occasion arises so when Craig and Evan from Tauranga Peugeot suggested I drive one for a couple of days – two birds, one stone.
So here are my notes compiled upon return comprising twelve positives and two negatives
Positives
Very good looking, inside and out (subjective but hard to argue against). Nice steering wheel shape and feel with clear view of the well arrayed instruments. Quality interior, dash and upholstery. Armrests well positioned and seating position with power controls minutely adjustable, heated and even massage options. Extensive and impressive list of standard comfort and convenience features including head-up screen, wireless phone dock, auto LED headlights (which includes high beam control), wipers and rear-view mirror.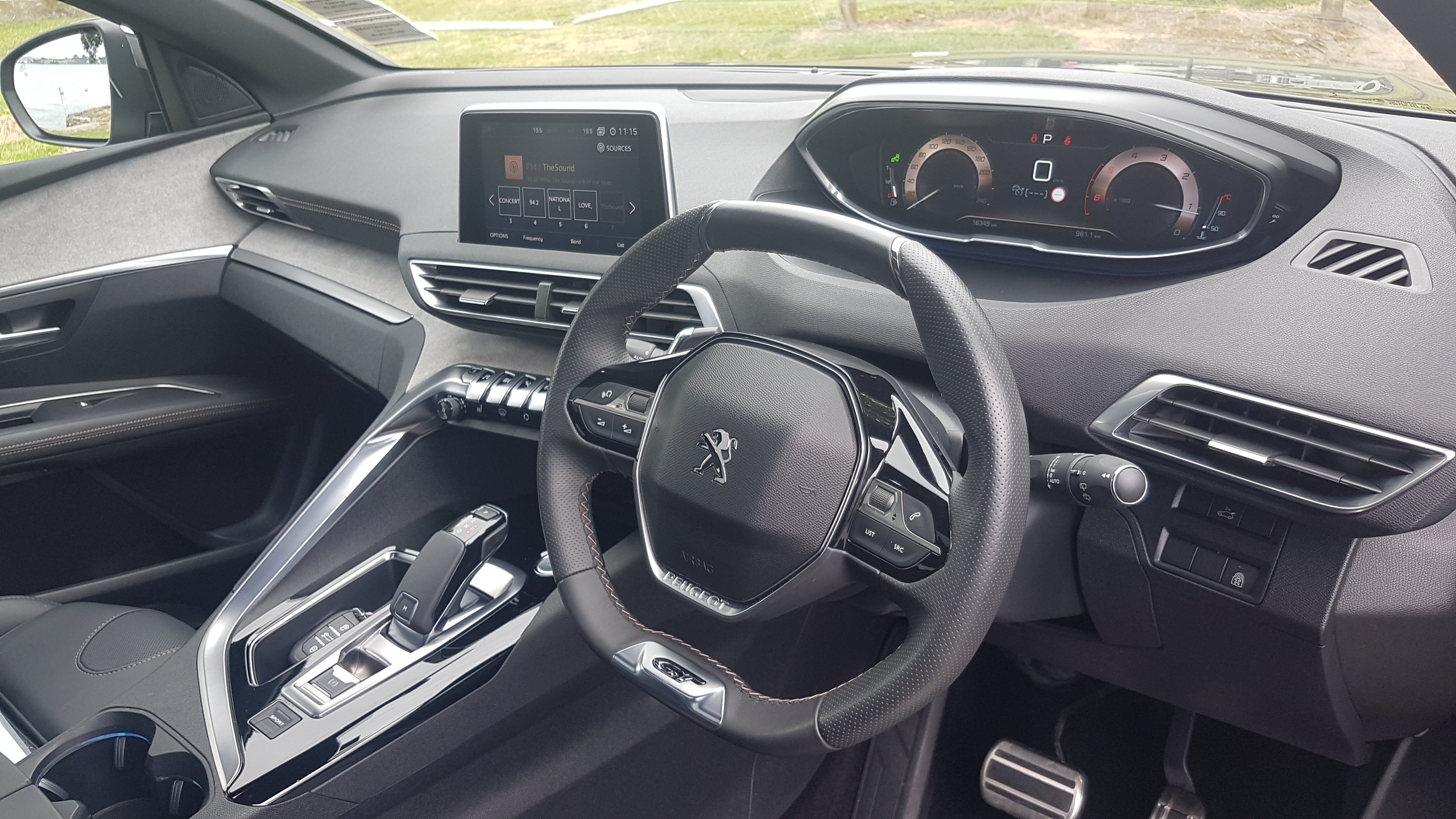 What about the safety features? Extensive and impressive – look at the more exclusive items usually only found in high-end vehicles; active lane departure, active blind spot detection, speed limit sign recognition, adaptive cruise control and speed limiter, front and rear parking sensors with 360 degree view camera, active parking assist, front collision warning and advanced emergency breaking up to 140km/h (not that you would ever need that). I'd also add that in a busy world where often our vehicle doubles as an office, the ability to have the Bluetooth system read out your email's and txt's safety with programmed reply options, adds to the ability to safety and responsibly access this information while on the move.
Driving, I found the torquey two litre turbo diesel punchy and quiet and perfectly matched to the 8-speed auto (with helpful gear read-out on the dash). Ride was on the firm side of compliant but matched the sporty nature of the GT and the economy was very impressive. Claimed combined cycle was 4.9 l/100km and over the test period including the Kaimai's I averaged 5.6.
So what were the negatives?
Not much really. The cruise control stalk was hidden by the steering wheel and I inadvertently changed the read-out mode to French which tested my high school learning to its limits. This was easily rectified by a call to the service department and the push of a button.
What are the numbers like? Recommended retail is $57,990 plus on road costs and Drivelines Smartlease works out at $898 per month – seems like a lot of bang for the buck.
For more information contact colin@driveline.co.nz