Conducting a simple safety on your business vehicles goes a long way.
Driveline's Walkaround Check App is a tool designed to help conduct a safety check of the vehicle.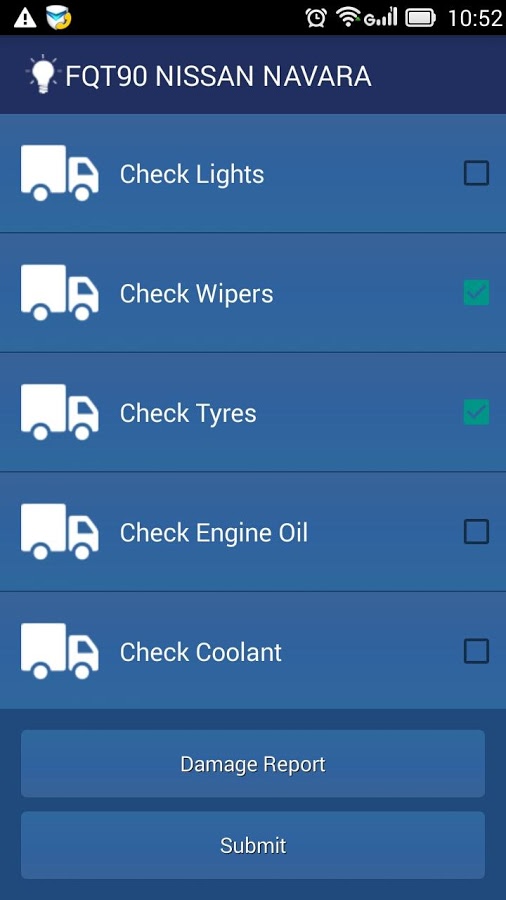 You can watch the video with the full transcript below.
Ensure the vehicle is parked in a safe location so that you can walk around it without having to worry about traffic.
First check that all your exterior lamps are working. Using a window or other reflective surface is a great way to do this without even getting out the car. While you're there, check the wipers, washers and horn are working too.
Next, take a look at the tires . Here's what a good tyre looks like. The tread still has good depth and is wearing evenly. The tread on this tyre is down to the wear indicators so it should be replaced. If a tyre has worn heavily on an inner or outer edge, it will need to be replaced even if there is still tread left in the middle. It's also worth noting that low tyre pressures aren't always obvious at first glance and can affect the handling and fuel economy of your vehicle. This tyre is clearly in need of some air. Also check the tread on the spare tyre and make sure it has enough air in it to get you to a garage.
Now it's time to check under the bonnet. For most late model cars this won't be done at every check but we recommend trucks and older cars are checked regularly. Check the engine oil using the dip stick. Wipe it clean and reinsert it. The levels should be close to the full mark. A visual check of the radiator overflow bottle should verify the level is between the marks. Never open the cooling system cap when the engine is hot.
Next, look around the vehicle for any items that need attention. Use the damage report function to report anything that is damaged, warned or in need of attention
When driving the vehicle, keep an ear out for any unusual noises from the engine or suspension and take note of any unusual smoke or fumes from the engine bay exhaust or under the car if the engine turns over slowly when starting or if you have to jumpstart it on more than one occasion this would indicate the battery is not holding charge.
Once you've recorded which items have been checked press submit and your job is done. The check is automatically recorded in the system.
We trust this video has helped explain how to conduct a walk around check
If you want to find out more about Driveline's Fleet Management App, click here. Or, fill in the quote request form below and we'll touch base with you pronto.